http://www.worldbank.org/en/news/feature/2017/12/15/year-in-review-2017-in-12-charts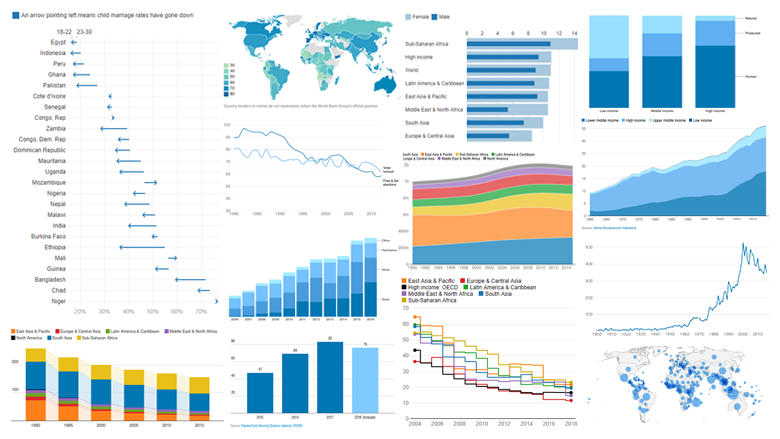 ---
How to sum up 2017? The global economy improved but there were plenty of unsettling and upsetting events and trends. Catastrophic storms and flooding wrecked homes and livelihoods from South Asia to the Caribbean. Education quality in many countries fell short even as much of the world raced into the digital age. Yet extreme poverty continues to decline. Innovation and technology are enhancing the quality of life. And human capital is now the biggest driver of wealth in the world today. Here's what 2017 looked like in 12 charts.
---
---
---
2. The world emitted historic amounts of carbon
Heads of state and other leaders affirmed their commitments to fight climate change at the One Planet Summit in Paris on December 12, on the two-year anniversary of the Paris Agreement. Their calls for concrete action came as concentrations of the greenhouse gas carbon dioxide reached their highest level in 800,000 years. CO2 emissions rose 60% between 1990 and 2014. In the last three years, global emissions had leveled off, but they recently began to rise again.
---
---
3. Natural disasters dominated the news
Record-breaking hurricanes, torrential monsoon rains, and historic flooding claimed lives and destroyed property in the Caribbean, South Asia, and the United States. In Sierra Leone and Colombia, hundreds died in mudslides after heavy rains. There are around 4-times as many natural disasters (when 10+ people are killed or 100+ affected) today than there were in the 1960s.
---
---
But disasters affect people differently — poorer people suffer only a fraction of economic losses caused by disasters, but they bear the brunt of their consequences. The "Unbreakable" report argues that investing in people's socioeconomic resilience is critical to breaking the cycle of disaster-induced poverty.
---
---
---
---
---
---
---
---
7. Child marriage carried high personal and economic costs
Each day, 41,000 girls marry before they are 18 years old – that's 15 million girls every year. A new report finds that marriage deeply affects child brides, their children, their family and even their countries. Girls married young are in turn: less likely to complete secondary school, more likely to give birth before they're 18, have reduced future earnings, and are at greater risk of domestic violence. If child marriage were ended by 2030, the report finds that the gains in well-being for populations could reach more than $500 billion annually.
---
---
---
---
9. Natural capital and biodiversity are undervalued
Globally, over a billion people rely on forests for their livelihoods, and forests are valued at over $600 billion per year. Animal, plant and marine biodiversity comprise the "natural capital" that keeps our ecosystems functional and economies productive. But the world is experiencing a dramatic loss of biodiversity. Climate change, poaching, overfishing, and pollution come together with the degradation of forests, landscapes, and ecosystems to make habitats much more vulnerable. While 2017 did see the discovery of new species such as the Tapanuli Orangutan in Indonesia, according to the IUCN,  nearly one-quarter of the world's mammal species are known to be globally threatened or extinct.
---
---
---
---
---
---