https://futurism.com/brutal-memes-metaverse?utm_souce=mailchimp&utm_medium=email&utm_campaign=01192022&utm_source=The+Future+Is&utm_campaign=7889d7d256-EMAIL_CAMPAIGN_2022_01_19_11_56&utm_medium=email&utm_term=0_03cd0a26cd-7889d7d256-250579240&mc_cid=7889d7d256&mc_eid=4c4fdffd76
After spending two soul-crushing years locked up at home, companies like Facebook-now-known-as-Meta are trying to sell you on a new vision of the future: strap on a bulky VR headset and experience expansive virtual worlds filled with joy and legless, cartoonized avatars of your best friends.
If that doesn't sound like something you want to be a part of, you're not alone. Here are our favorite memes about the concept.
1. MEAT-A-VERSE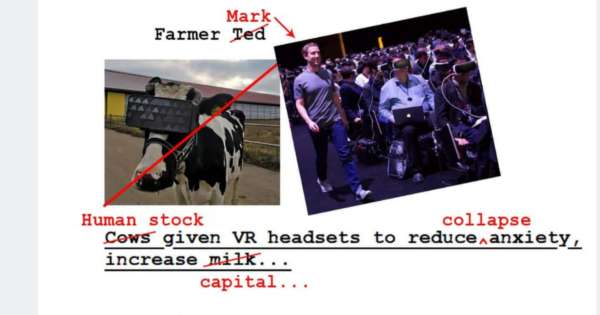 Some folks are worried Mark Zuckerberg and his company Meta might have ulterior motives in the metaverse. After news broke that one Turkish farmer was putting his cows in VR headsets to show them images of green fields and pastures to increase milk production, one Redditor posted the "Meta-worse" meme showing Zuckerberg commandingly striding past rows and rows of audience members testing out VR headsets.
Some, however, seem less concerned about the consequences and are just happy to forget a bleak reality.
"If I can escape my miserable life in the form of VR i would do it 100 percent," one user commented below the post. "I already do with TV shows and video games anyways."
2. THIS IS FINE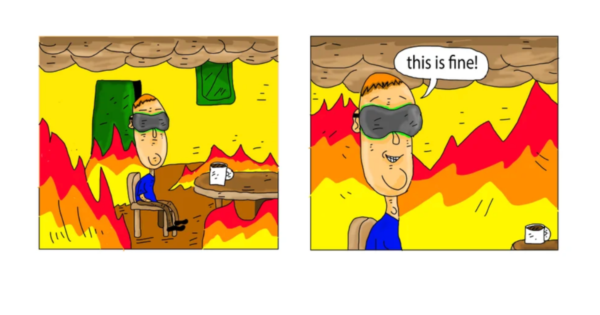 Remember the "This is Fine" dog sitting at a kitchen table inside a burning house? One Instagram webcomic artist remixed the meme to feature an original character in a burning house, oblivious to the flames because of the VR goggles on their face.
It's the sharp-elbowed reminder, in other words that VR can easily distract us from everyday problems that require immediate solutions, like climate change, for instance.EMPAVELI™ (pegcetacoplan) – Resources for PhysiciansSee Prescribing Info & Boxed Warning. Read How EMPAVELI May Help Your Patients. See www.empavelihcp.com
3. LET'S MAKE A DEAL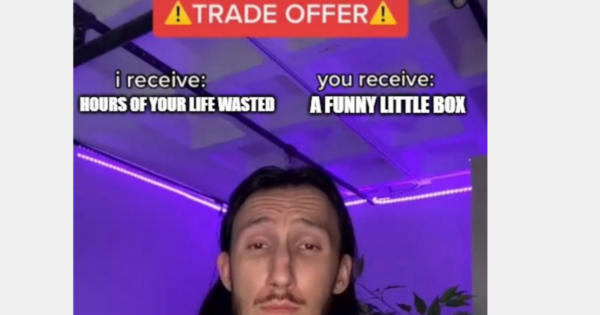 What do VR users get in exchange for hours of their life spent inside a digital world? According to one meme-maker, not a lot.
"I receive: Hours of your life wasted," the caption of a meme showing a man dressed in a business suit reads. "You receive: A funny little box."
4. CHUMP CHANGES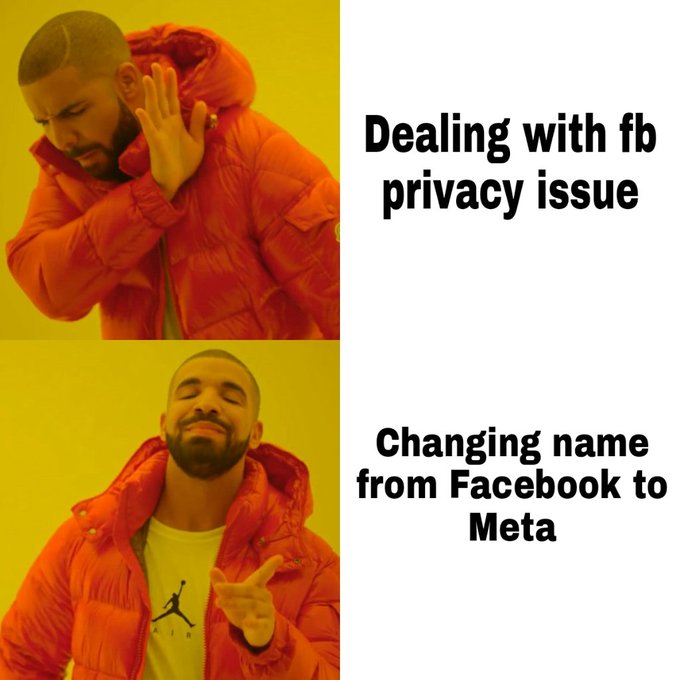 Who needs real change when you can just pick a new name, right? At least that's what the above Twitter user seems to be implying when Facebook changed its name to Meta.
5. POSSIBLE PRISON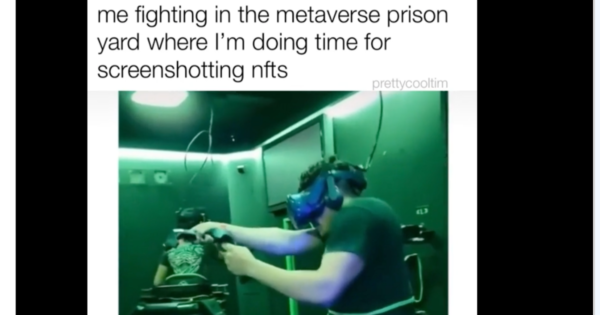 Can you even imagine doing time in a "metaverse prison?" A Reddit user posted this video featuring two players using VR headsets and flailing wildly in full-body control suit situations — and it popped off with more than 51,000 upvotes.
6. UNREAL ESTATE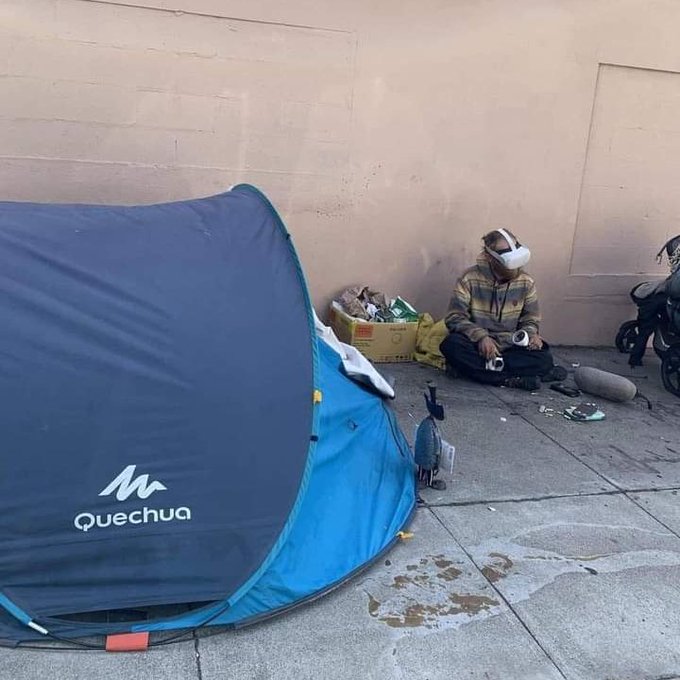 This tweet seems to be a dig at real estate agents spending millions of dollars on virtual plots of land. Sure, you might be broke after and not able to afford reality-based housing — but as long as you've got the headset you're home sweet home, right?
7. IT'S ALL TOO MUCH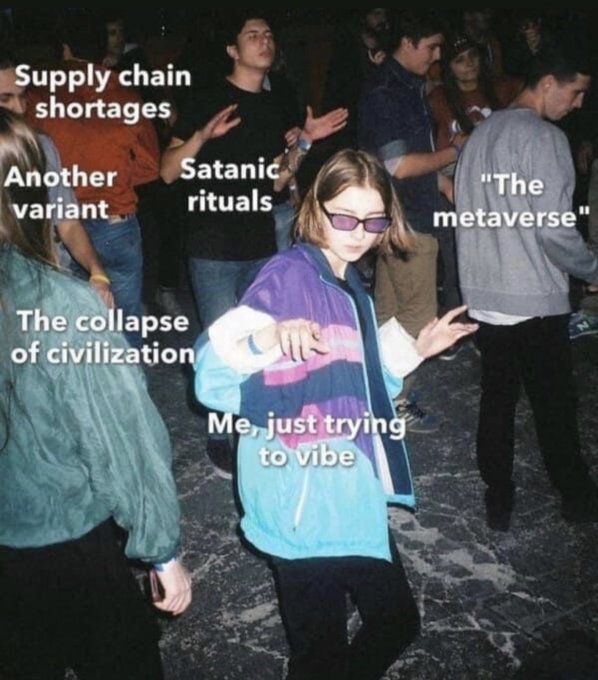 Some metaverse memes remind us about the bigger picture. Sure, VR can be scary, but what about everything else going on in the world? We can't forget those pesky supply chain shortages and COVID variants.
Sometimes memes make us feel better, and sometimes they make us feel worse. But if you're feeling a little blue after this roundup, just remember, there's still some good being done in the world.