https://www.epa.gov/waterreuse/water-reuse-action-plan
Water Reuse Action Plan
The National Water Reuse Action Plan (WRAP) was developed in collaboration with partners across the water sector. Actions in the plan are intended to drive progress on reuse and address local and national barriers across a range of topics including technical, institutional, and financial.  There are over 100 action leaders and partners, including a federal Interagency Working Group, collaborating to advance reuse around the country.  
The changing climate is challenging many communities to meet their long-term water needs. Reuse of treated wastewater and stormwater for agricultural, non-potable, or even potable uses provides an alternative source of water that can be more reliable than traditional raw water sources. The capacity to incorporate water reuse into a community's water portfolio can provide resilience against climate-induced impacts.
Ultimately, the WRAP collaborative strives to ensure that water reuse is accessible, straightforward to implement, and sensitive to climate and environmental justice considerations. Over time, the collective efforts of the organizations and entities participating in WRAP actions can grow the body of reuse knowledge and best practices for the benefit of all.
For more information about how to get involved with the National Water Reuse Action Plan, please reach out to action leaders and partner, or visit our Join the Effort webpage for a fuller list of the ways you can contribute.On this page:
---
WRAP: Updates on Collaborative Progress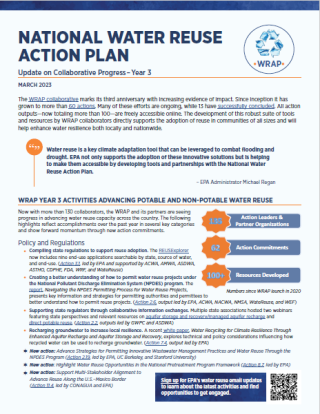 In just three years, WRAP collaborators created over 100 different resources to help to advance water reuse around the country. The WRAP: Update on Collaborative Progress documents, released in March 2023, March 2022, and April 2021, highlight key WRAP accomplishments for the year and lay the groundwork for further impacts.
To mark the WRAP's first year progress, EPA with WateReuse and water sector partners hosted the "Resilience Through Collaboration: First Year Highlights and Future Directions of the National Water Reuse Action Plan" webinar. The April 2021 event featured lively discussion with leaders from across the water sector about the future of water reuse and its importance as a tool to address the impacts of climate change and meet local water demands. The recording is available from the link.
Online Platform
The WRAP Online Platform contains the most up-to-date information on WRAP actions. This regularly updated web-based repository that includes all actions (i.e., proposed, active) and action descriptions. The platform undergoes regular updates on each action's progress and communicates ongoing activity and creates accountability for action progress.
WRAP: Collaborative Implementation
In February 2020, the EPA and other federal, state, and local water leaders announced the release of the National Water Reuse Action Plan: Collaborative Implementation (Version 1).
This Action Plan (Version 1) identifies action leaders, partners, implementation milestones, and target completion dates for 37 actions across 11 strategic themes. These actions represent initial momentum and serve as a catalyst for additional partnerships and subsequent actions to strengthen and diversify the Nation's water resources.
Information for the actions initially included in Action Plan (Version 1) is available in the printed publication. For the current status on all WRAP actions please visit the online platform.
Documents Related to Development of the WRAP
On February 27, 2019, EPA's Assistant Administrator for Water, announced that the Agency would facilitate the development of a National Water Reuse Action Plan that will better integrate federal policy and leverage the expertise of both industry and government to ensure the effective use of the nation's water resources. Throughout the development process of the Action Plan, EPA and its partners have engaged in significant efforts to identify and characterize opportunities to foster the consideration and implementation of water reuse. This process has resulted in numerous intermediate products in preparation of the Action Plan. These products include: